Thinking long-term
Every individual is different and as such, has a different set of incentives. Thus, you may wish to sell some of your Bitcoin before mass adoption has been attained. We mention mass adoption because only at this point will Bitcoin price finally start to stabilize over the long term.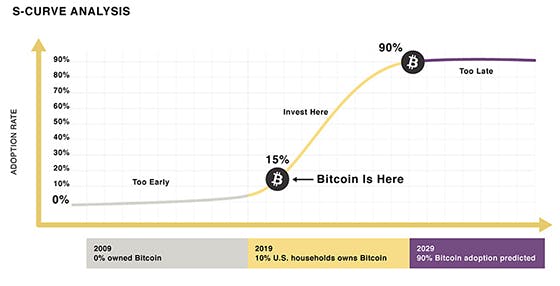 Even though the Bitcoin price chart seems like it is extremely volatile, when you smooth it out and look at it over the long term the trend is glaringly upward. As a result, should you choose to sell some or all of your Bitcoin you most likely will see Bitcoin make new highs after your coins have left your hands, leaving you with unrealised gains and a salty taste in your mouth.
All that being said, if your mother gets sick or you wish to pay off your mortgage, then you may have to sell some of your Bitcoin.
When you sell your Bitcoin, you should consider the trade-offs between convenience and privacy. Services such as exchanges are the most convenient (and often the cheapest) but the least private. While Bitcoin ATM's and peer to peer platforms are less convenient but far more private. Different strokes for different folks.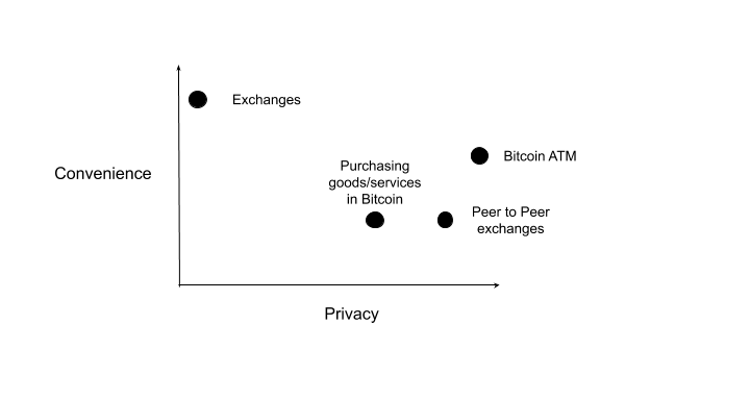 Bitcoin Exchanges
A Bitcoin exchange is an online platform that allows you to buy and sell Bitcoin. These platforms are marketplaces where buyers and sellers come together to trade Bitcoin for fiat (government currency). The most common scenario is that these exchanges require users to provide KYC (identification) documentation in order to comply with government regulations. As a result, it should be assumed that every transaction made on these platforms is reported to a government(s). The flip side of this is that transactions on an exchange are often rather cheap and convenient.
Our recommended exchange to use is VALR
Bitcoin ATM's are becoming more and more popular these days. They are machines that allow you to trade fiat for Bitcoin and vice versa. More often than not these machines are completely anonymous. They do however typically charge a hefty fee (6 - 10%). Using a Bitcoin ATM is roughly as convenient as using a normal ATM.
You can find your nearest ATM through a trusted partner, Ankerpay.


Peer to peer (P2P) exchanges
In order to circumvent centralization risk that faces exchanges, P2P exchanges have emerged. These are much closer to Satoshi's vision than centralized exchanged as they are censorship resistant. They are typically online platforms which allow buyers and sellers to communicate and settle on a price. The transaction is made privately and more often than not through an escrow service built into the platform. Users are kept honest through a peer rating system.
Some P2P services have started introducing KYC requirements (Local Bitcoins) due to government pressure. This pressure is only possible since Local Bitcoins is a registered company, based in Finland. As such there is an office and staff to apply pressure to. An alternative P2P exchange is Bisq.
This is a fully open source platform which is downloaded and runs locally on your computer. There is no company, management team, office or even physical location for governments to apply pressure to. Bisq is what is known as a "Decentralized Exchange". This is currently the most censorship resistant and private type of exchange platform available.
Purchasing goods and services in Bitcoin
Ultimately, the most private way to sell your Bitcoin is to use it to purchase goods and services. While Bitcoin on the base layer may not be well suited for small transactions such as purchasing a cup of coffee, due to "slow" confirmation times and "high" transaction fees. It is however extremely well suited for large transactions over any geographical area. Paying for the services of a website developer in Ukraine or for a beachfront villa in Bali to name but two. As the Bitcoin network continues to grow more people will adopt Bitcoin, reducing price volatility and thus increasing its use as a transactional unit of account. This means that more people will accept it as payment.